< Back to Works
Establishing Conversation Through Pictures
UI UX Design
Type
Public Service Hackathon Course

Time
2017 - 6 Week Project

Design Goal
How could new technology (e.g. AI and IoT) and Innovations be utilized to improve the independent living of disabled people?
Team
Timo Ristola , Henriikka Seittu, Anttoni Salo, Wilhelm Ala-Krekola, Izzan Bacharrudin Soedarsono
---
Improving Independent Living of Disabled

This course is organized in by Fjord Accenture and Aalto University. With selected public sector organizations (Defence Forces, Disability, and Human Resource Management) as the main topic. The aim of this workshop is to solving real-life digitization challenges of key Finnish public sector organizations.

For this hackathon, I join with my team that come from different disciplinary to solve the problem about Disability. The design brief for this topic is how could new technology (e.g. AI and IoT) and innovations be utilized to improve the independent living of disabled people?
Ethnographic Research : Pictures as Language.
We went to nursing home for disabled people to finding more about the real situation in Rastilla, Helsinki. The summary is that our target customers have many different needs and problems in the three problem areas recognized. Some of the residents have more problems in daily routine communication while some have more problems in the access for services, especially in digital and online services. That is why all the solutions made for them needs to be specific and individual. On the other hand, in our observation we noticed that it's is a difficult to build a solution that would fill all the different needs of the users.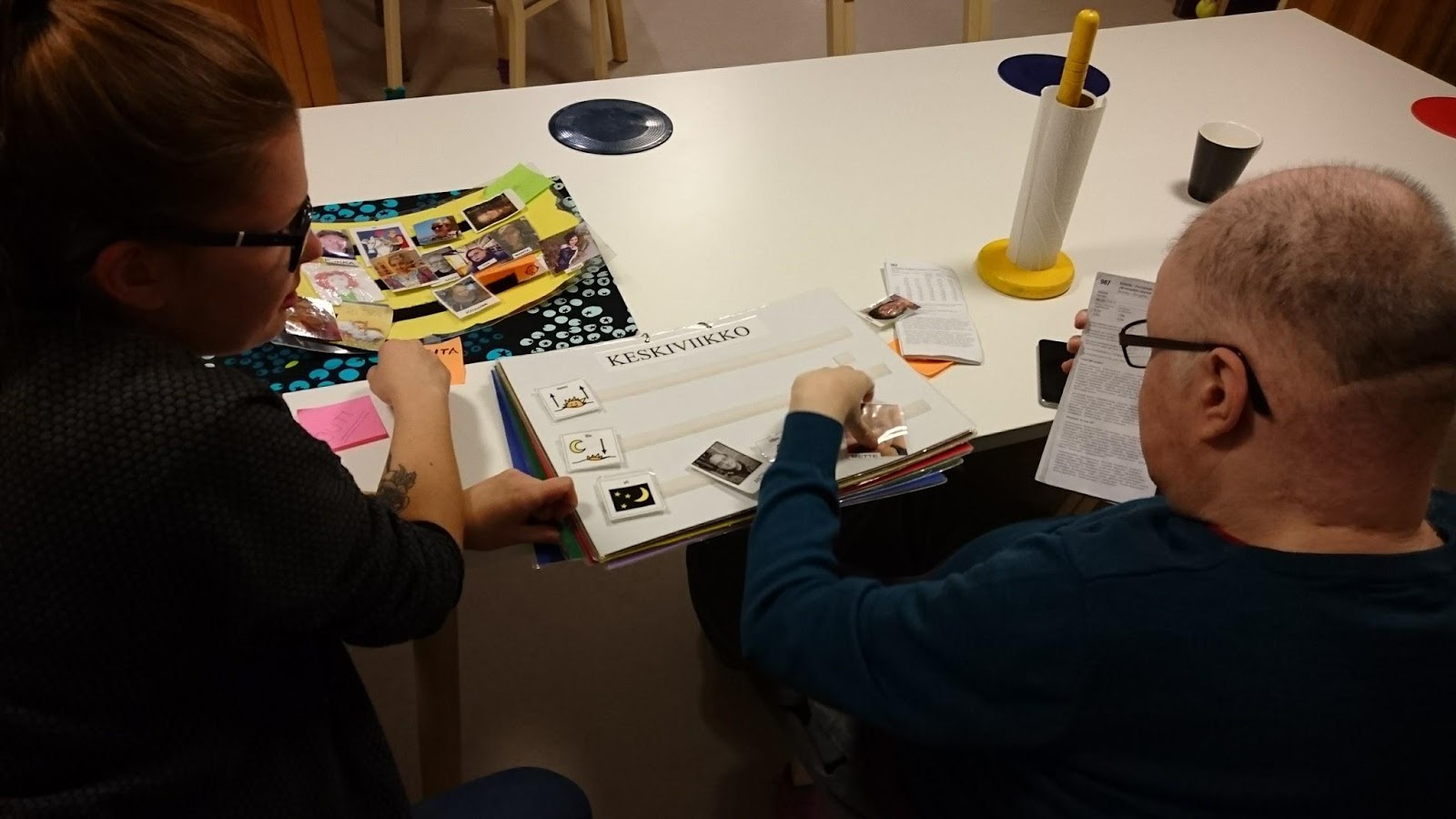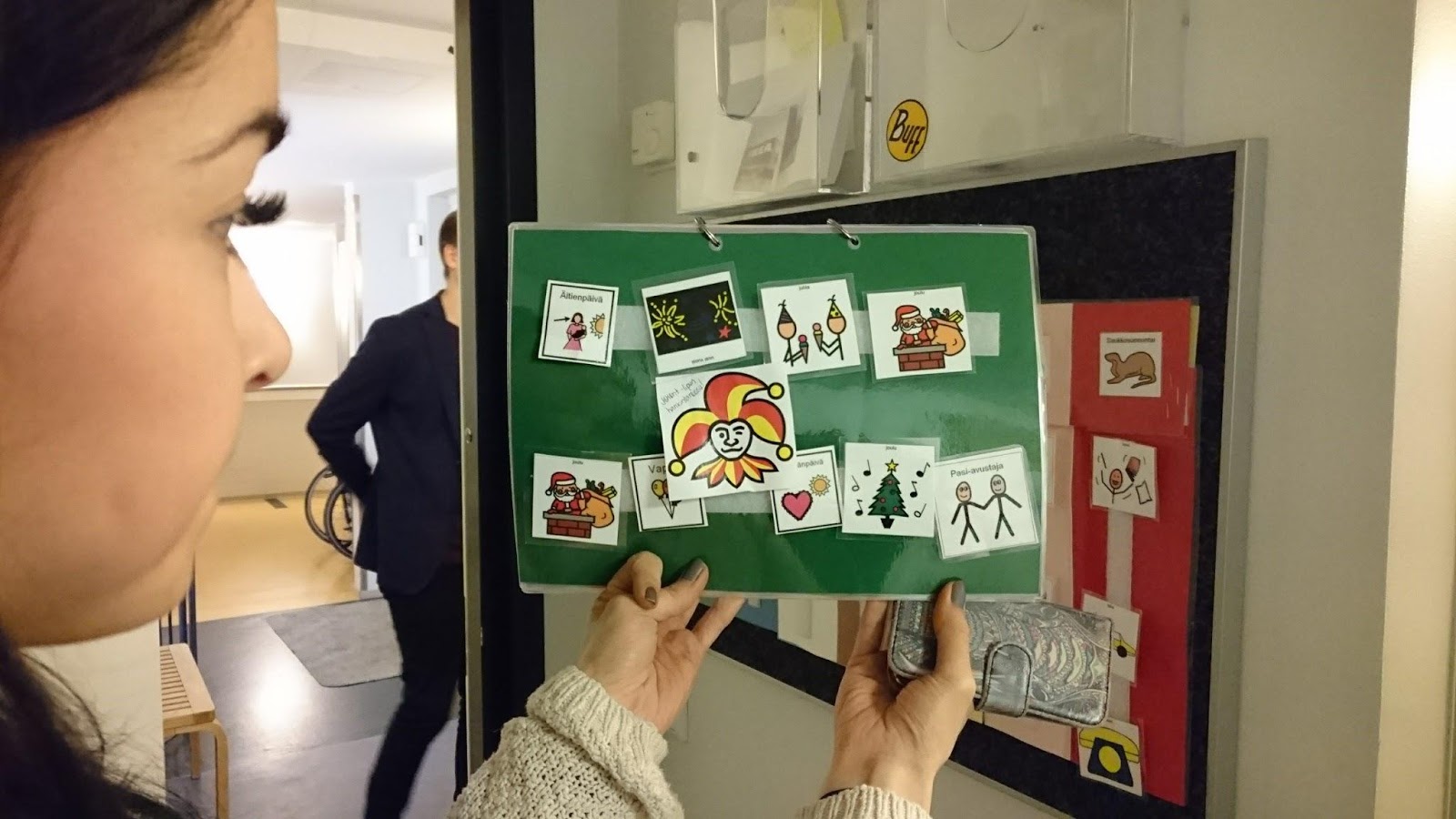 Findings

There are 3 main insight that we found from this research :
Most of the residents is that they can communicate through pictures and colours. Pictures although must be linked to a context that is familiar to them so that they are able to bring together the meaning and context behind the picture.


Combining more than one communication method (like voice and picture) helped most of the residents to communicate.


Communication needs to be "produced" with the help of the workers because the workers have learned to communicate with the "own language" of the residents quite fluent.
Possibility of the help from the workers can be utilized and taken into consideration in planning the digital solution.
Prototyping

After we got insight from previous ethnographic research, we attend the 2 days hackathon for creating the prototype (led by Fjord by Accenture). What we had done in the workshop were persona creation, user experience journey, lean canvas, and design drivers.
We thinking about how we can create a supporting communication tool for disabled people that easier to use and adaptable with each user personification. Also we thinking about how the concept scenario works and the feasibility in business perspective.
The result of the hackathon become our brief / draft for creating the prototype. For this hackathon, I as designer create the apps prototype using Sketch (for visual assets) and Flinto (for animation / motion). The 2 day hackathon prototype will be our Minimum Viable Product (MVP) that can be used as test and references for next development.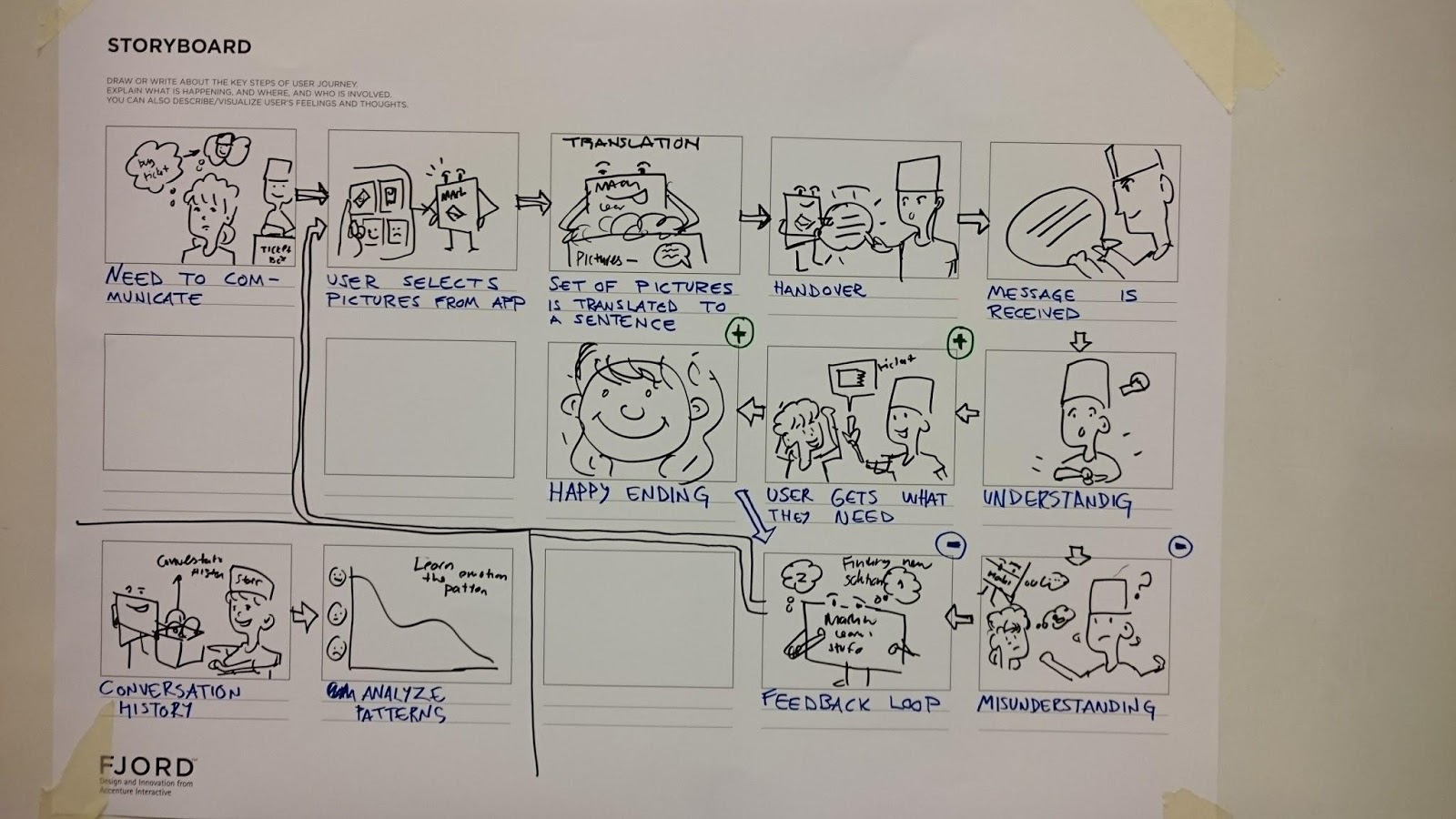 Confidence as core value of communication

As the final result, we create a prototype in apps that help disabled people communicate. Our main function in our concept apps is ability to translate pictures into a sentences.
Also we consider about how the application looks and feels. Most of recent apps that help disabled people to communicate with pictures giving disabled people feel to handicapped for being using the apps. We want to giving confidence to them, to be proud for themself that even they are handicap, they are not different with others.
---
Check other related project